ICNME 20

21

: The 9th International Conference on Nanomaterials and Materials Engineering

Chengdu, China, November 26-28, 2021

Virtual, December 20-22, 2021

Welcome to 2021 9th International Conference on Nanomaterials and Materials Engineering, which will be held in Chengdu, China during November 26-28, 2021Online during December 20-22, 2021. The conference is sponsored by Sichuan University . ICNME 2021 will be held together with 2021 3rd International Conference on Engineering Materials-ICEM2021 (www.icem.org). This unique international conference provides a forum for academics, researchers and practitioners from many industries to exchange ideas and share recent developments in the field of Nanomaterials and Materials Engineering. Here we have an opportunity to collaborate and advance the theory and practice of major trends in Nanomaterials and Materials Engineering. We will also have an excellent opportunity to network with the leading scholars and practitioners.
2021年第九届纳米与材料工程国际会议将于2021年11月26-28日在四川成都2021年12月20-22日在线上举行。该会议由四川大学联合主办, 欢迎业内人士踊跃参与。(ICNME会议通知下载)
---
Proceedings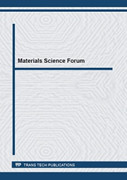 All submissions will be blind reviewed by the Program Committee on the basis of technical quality, relevance to conference topics of interest, originality, significance, and clarity. All accepted and presented papers will be published in Materials Science Forum (ISSN print 0255-5476 / ISSN web 1662-9752), which will be submitted for indexing in Scopus, EI Compendex, REAXYS, Google Scholar and Index Copernicus Journals Master etc.

Proceedings History
ICNME 2020-Key Engineering Materials (Volume 891) ISBN: 978-3-0357-1789-1
ICNME 2019-IOP Conference Series: Materials Science and Engineering (Volume 761)
ICNME 2018-IOP Conference Series: Materials Science and Engineering (Volume 380)
ICNME 2017-IOP Conference Series: Materials Science and Engineering (Volume 204)
ICNME 2016-Material Science Forum (Volume 864) ISBN: 978-3-03835-725-4

---